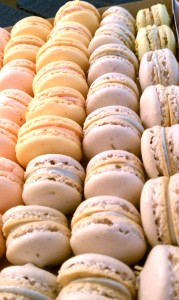 I spent half my winter break, dozens of eggs and boxes of sugar tinkering to create a recipe that FINALLY gave me good macarons.  It took lots of research from different websites and trial and errors…I never want to see egg whites again for a long time.
I made batches of: grapefruit, lavender, pistachio and raspberry macarons. So pretty!
BREAKDOWN OF THE RECIPE
Ingredients:
2 egg whites
1/8 tsp cream of tartar
5 tbsp granulated sugar
1/2 cup of almond powder
1 cup of confectioner's sugar
salt
1. Egg whites.  There are different ways to get them ready.  The egg whites need to be dry and acidic to create a stable batter that won't crack in the oven.  Different sources say "age" the egg whites over night in a cool spot in your kitchen.  If you can't wait, add some lemon juice or dash of cream of tartar to add acidity.  Or use both the aging process and extra acid, just in case.
2.  Prepare the pastry bag.  Fold it over a cup for easy filling. Place wax paper on your baking sheet, measure to size.
3.  Add almond powder, confectioner's sugar and dash of salt to a sifter. Sift into a bowl.  If big bits are left over, mash it with a spoon through the sifter.
4.  Beat the egg whites and cream of tartar on high until you get a stiff foam.  The peaks should be able to stand up on their own. Beating the egg whites in a cool metal bowl helps stabilize the egg whites, don't know if this mattered to me.
5.  Add the granulated sugar slowly to the egg whites and continuing beating.  You should get a thick, white, shiny meringue. DON'T OVERBEAT or it will dry out the macarons. This process doesn't take long.
6.  With a rubber spatula, gently fold in the dry ingredients.  Add portions at a time. Fold using sweeping motions. Once you've added all the dry ingredients, continuing folding until the batter moves like lava. The batter should still have peaks that slowly disappear.
7.  Add batter to the pastry bag.  Pipe 1 inch to 1.5 inch rounds.  Smaller is better than bigger.  Bigger ones will crack. Remember the batter will spread out a little as it settles.
It should look like this: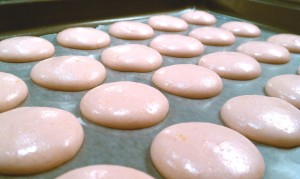 This is bad: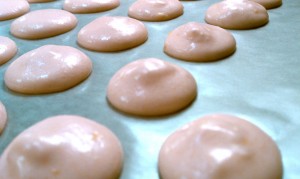 Mine still had peaks because I was making mountains with my pastry bag instead of disks.  Keep the tip of the pastry bag close to the baking sheet to make a disk.  If your batter still makes peaks, the batter might have needed more mixing with the spatula to thin it out. But remember, overmixing turns the batter watery at some point.
8.  Allow the cookies to sit and dry for 30 minutes to an hour.  This drys out the top and prevents cracking.  This step was very necessary for me.
9.  Place the cookies in an oven preheated to 350 degrees after drying.  Watch this step.  Wait for the cookies to rise and create the ruffled feet.  This should take 3-5 minutes. Once you see the feet, quickly open the oven door.  Release some of the heat and bring the temperature down to 300 degrees.  Close the oven door and continuing cooking for 10-12 minutes.
10.  Once done, remove the baking tray.  Get a cup of water.  Lift up your wax paper and pour a bit of water onto the baking sheet. Swish the water around.  This gets the wax paper wet so you can remove the macarons.  Do this quickly or the macarons will melt.  Cool them on a rack.
11.  Make your fillings for the macarons. Jams, buttercream, ganache, mascarpone cheese, whatever.
Here are some yummy vanilla macarons with creme brulee filling. My favorite!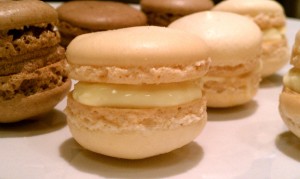 Chocolate macarons with chocolate buttercream. So goooood.