July 29th, 2012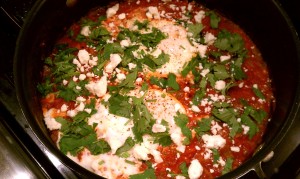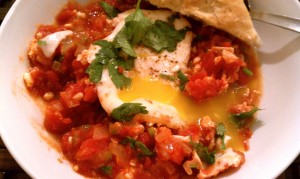 I've cooked a lot, but too lazy to post pictures.  Slowly, but surely I will try to get all of the pictures posted…eventually.
I'm excited about this recipe because it's cheap, easy, fast, filling, and so different than plain-jane sandwiches or spaghetti for dinner. The sauce is canned tomatoes, a jalapeno, garlic, onion, paprika, cumin, and salt.  Topped with a cracked egg, cilantro, and feta cheese. Yum, yum. And the bf approves so I can add this to my arsenal of go-to recipes.
April 17th, 2012
Tonight was a simple dinner with ingredients left in the fridge. Turned out so good!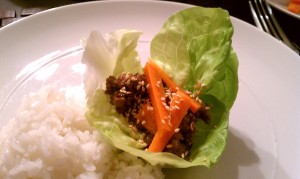 Sauce:
2 tbs hoisin sauce
1 tbs soy sauce
1 tbs rice vinegar
1/4 tsp crushed red pepper
1/4 tsp ginger
–  Brown 1/2 lb beef and saute with onion, garlic, green onion, and shiitake mushrooms.
–  Add sauce and warm through.
–  Serve on lettuce leaves with chopped carrot and toasted sesame seeds. (And yes, carrots and toasted sesame seeds are necessary!)
April 7th, 2012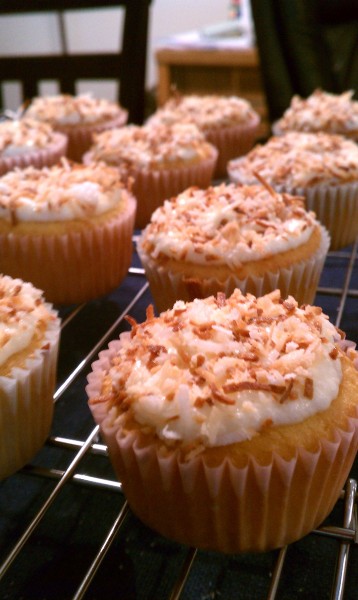 I'm in heaven!  Especially since the bf doesn't like coconut, I get it all to myself

Coconut Cupcakes
3 eggs, separated
1.25 cup flour
1 tsp baking powder
½ tsp baking soda
¼ tsp salt
6 tbs butter
½ cup sugar, ¼ cup sugar
½ tsp coconut extract
¾ cup buttermilk
½ tsp cream of tartar
–       preheat oven to 350F and line cupcake tins
–       cream butter and ½ cup sugar, add egg yolks one at a time and coconut extract
–       alternately add dry mixture and buttermilk
–       beat egg whites and cream of tartar until a stiff foam, add ¼ cup sugar and beat until shiny
–       fold egg whites into batter in batches
–       pour into pan and bake 35-40 minutes
–       top with coconut frosting and toasted coconut flakes
December 21st, 2011
Seth has fond memories of foods he and his mom would cook when he was growing up.  They made foods close to his Ukranian and Finnish background and regular Americans foods that he can never give up (pizza).  Over the years they collected recipes that they have tinkered with and made notes to.
I have fond memories of the good foods my mom would make, but her recipes come from her head and are way too complex for me to tackle as of now. So I don't have any family recipes to pass down.
Since moving out and living on my own, I'm learning how hard it is to figure what's for dinner.  Different recipes I try are hit and miss.  There have been some good ones.  I usually write them down off the computer onto sticky notes to have while I'm in the kitchen.  But I throw those sticky notes away and I forget where I get those recipes.  Seth suggested I start saving them on a computer or a cookbook.  It's a good idea.  It would be nice to create a recipe book of good things I can make that maybe one day my kids would remember fondly.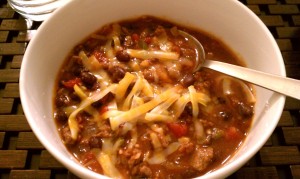 Chili
1/2 lbs ground beef
3 cloves garlic
1 jalapeno, diced
1/2 red onion, diced
1 can (10 oz.) diced tomatoes
2 tbs tomato paste
1/2 cup chicken or beef or vegetable stock
1 can (8 oz.) black beans
2 tbs steak seasoning
1 tbs cumin
2 tsp chili powder
3 tbs barbeque sauce
Brown the beef and remove excess fat and oil.  Add the garlic, jalapeno, and onions and saute.  Add the rest of the ingredients and bring to a boil.  Simmer until flavors come together and enjoy!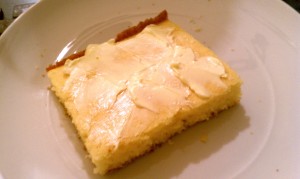 Basic Cornbread
1 cup cornmeal
1 cup flour
1/4 cup sugar
1 tbs baking powder
1 tsp salt
1 cup buttermilk
1/3 cup vegetable oil
2 eggs
Mix the wet and dry ingredients separately first, then mix together.  Pour into a greased pan and bake at 400 degrees for 20-25 minutes.
December 21st, 2011
Pomegranate has always been a weird fruit for me.  My mom loves them and makes me eat them.  I don't mind them but I always found it weird to be eating a mouthful of seeds. I was browsing through recipes when I saw white chocolate and pomegranate cookies.  Kinda of blew my mind to think of baking them with cookies.  I was about ready to make them but thought pomegranate would be so much better in a sweet bread.  I found a recipe for cranberries and just replaced those.  I made a bunch and gave them away for Christmas!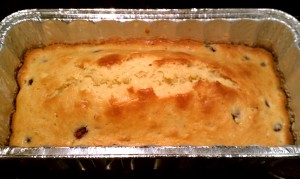 White Chocolate and Pomegranate Bread
1/2 cup butter
1/2 cup sugar
3 large eggs
1/2 cup buttermilk
some lemon zest and juice from half a lemon
1 tsp vanilla extract
1/2 cup melted white chocolate chips
2 1/4 cup flour
1/2 tsp salt
1/4 tsp baking soda
1 cup of arils (pomegranate seeds)
Cream together the butter and sugar.  Then mix in the eggs. Add in vanilla, lemon zest and juice, and buttermilk.  Drizzle in the melted white chocolate chips while mixing.  Add the dry ingredients: flour, salt, and baking soda.  Gently mix in the pomegranate seeds. Pour into a greased and floured baking pan. Bake at 350 degrees for 55-60 minutes. Cool before eating.