November 28th, 2011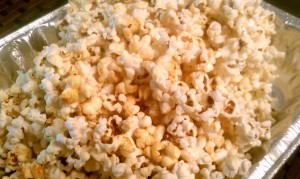 I had to look up kettle corn to see what it was all about. It's made with salt and sugar. Sweet and salty? My favorite! So I had to try it.  I made it in a regular pot with kernels. I was kind of nervous, afraid setting off the smoke alarm, but everything went really well. Some of the sugar caramelized before the kernels began to pop, so there was some caramel corn mixed in.  The popcorn ended up with a thin, hard candy coat that was sooo addicting. The bf and I finished all of it in less than an hour (mostly me). Next time I would add more salt and less sugar, but this snack is a keeper. I plan to make it for the family Christmas party and also today! (study snack!)
October 17th, 2011
Mom gave me some purple potatoes, which I had no idea what to do with them. They just sat in the kitchen for weeks.  Mom just usually steams them and eats them like a sweet potato.  I wanted something more salty so I went for the chips.  They were perfect with a slight sweetness and touch of salt. And so pretty! They look like coral after frying!
August 9th, 2011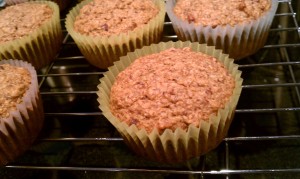 I wanted to share this recipe for bran muffins just because it turned out so good. Bran muffins are usually bland and dry, and usually slathered in butter because of that.  These muffins turned out so good, you can eat them all by themselves, which is what I plan. I should have breakfast everyday, but I can't wake up early enough to cook.  These little muffins will be my staple once school starts next week (ugh!).
The recipe has complex flavors like toasted bran, raisins and orange zest but they combine into a very moist and tasty muffin. And it's loaded with fiber! Sorry I get excited about fiber. Nutrition has been big for me lately. I did replace the whole raisins in the recipe for chopped pecans since I'm not a fan of raisins.
http://www.davidlebovitz.com/2009/07/nancy-silvertons-bran-muffins/
July 26th, 2011
Seth's childhood and adulthood have a tradition of Saturday pizza nights.  I've attended almost every pizza night since I've known Seth for the past 6 years.  For the past 3 years or so, his favorite place has been Pizza Plus.  We usually get a medium pizza with fries or cheese sticks.  Sometimes we even finish all our food.  I'm pretty sure pizza nights combined with a hectic work schedule and little time to exercise made my weight balloon last year. (It's hard to tell wearing those hospital scrubs until you can't fit into your shorts when summer rolls around.) Since then I've been pushing myself to run and eat healthy in preparation for those pizza nights.
I wanted to try making my own pizza. Ever since our trip to Lombardi's pizzeria in NYC, I've been craving ricotta cheese on my pizza. We bought some fresh pizza dough from Whole Foods. At $1.50 for enough dough for a medium pizza, it was a bargain for Whole Foods (or Whole Paycheck). I made a simple marinara sauce and topped the dough with ricotta and fresh bay leaves. That was enough for me, but the bf demanded meat on his pizza. So I added pepperoni. We baked it at 525 degrees on a cookie sheet and a bed of corn meal.
It turned out delish!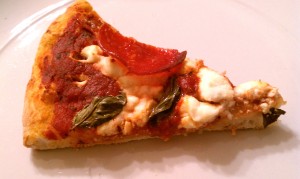 The bay leaves turned brown but still tasted great. Next time I would throw on the leaves after cooking the pizza. The top layer of dough was a bit undercooked. We might have to play with higher temperatures. Overall it was a success. No more greasy pizza from Pizza Plus and I can feel better about having pizza nights. This is something I would approve for more than just once a week

July 19th, 2011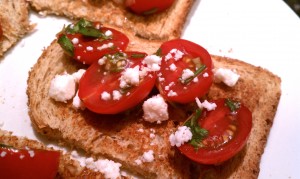 Excuse my language but when I bit into this, that's what ran through my mind. These marinated tomatoes are sweet, savory and pretty much foolproof.  Throw it with some feta cheese onto toasted bread and I have my favorite meal/snack for the rest of the summer.
Recipe here: http://thepioneerwoman.com/cooking/2011/07/missys-marinated-tomatoes/