Pomegranate has always been a weird fruit for me.  My mom loves them and makes me eat them.  I don't mind them but I always found it weird to be eating a mouthful of seeds. I was browsing through recipes when I saw white chocolate and pomegranate cookies.  Kinda of blew my mind to think of baking them with cookies.  I was about ready to make them but thought pomegranate would be so much better in a sweet bread.  I found a recipe for cranberries and just replaced those.  I made a bunch and gave them away for Christmas!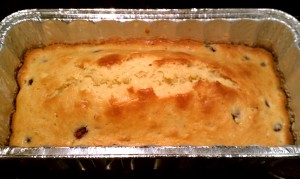 White Chocolate and Pomegranate Bread
1/2 cup butter
1/2 cup sugar
3 large eggs
1/2 cup buttermilk
some lemon zest and juice from half a lemon
1 tsp vanilla extract
1/2 cup melted white chocolate chips
2 1/4 cup flour
1/2 tsp salt
1/4 tsp baking soda
1 cup of arils (pomegranate seeds)
Cream together the butter and sugar.  Then mix in the eggs. Add in vanilla, lemon zest and juice, and buttermilk.  Drizzle in the melted white chocolate chips while mixing.  Add the dry ingredients: flour, salt, and baking soda.  Gently mix in the pomegranate seeds. Pour into a greased and floured baking pan. Bake at 350 degrees for 55-60 minutes. Cool before eating.