Seth has fond memories of foods he and his mom would cook when he was growing up.  They made foods close to his Ukranian and Finnish background and regular Americans foods that he can never give up (pizza).  Over the years they collected recipes that they have tinkered with and made notes to.
I have fond memories of the good foods my mom would make, but her recipes come from her head and are way too complex for me to tackle as of now. So I don't have any family recipes to pass down.
Since moving out and living on my own, I'm learning how hard it is to figure what's for dinner.  Different recipes I try are hit and miss.  There have been some good ones.  I usually write them down off the computer onto sticky notes to have while I'm in the kitchen.  But I throw those sticky notes away and I forget where I get those recipes.  Seth suggested I start saving them on a computer or a cookbook.  It's a good idea.  It would be nice to create a recipe book of good things I can make that maybe one day my kids would remember fondly.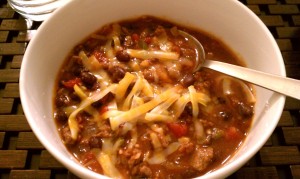 Chili
1/2 lbs ground beef
3 cloves garlic
1 jalapeno, diced
1/2 red onion, diced
1 can (10 oz.) diced tomatoes
2 tbs tomato paste
1/2 cup chicken or beef or vegetable stock
1 can (8 oz.) black beans
2 tbs steak seasoning
1 tbs cumin
2 tsp chili powder
3 tbs barbeque sauce
Brown the beef and remove excess fat and oil.  Add the garlic, jalapeno, and onions and saute.  Add the rest of the ingredients and bring to a boil.  Simmer until flavors come together and enjoy!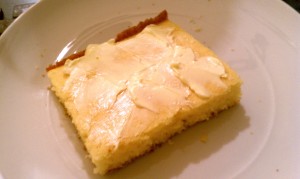 Basic Cornbread
1 cup cornmeal
1 cup flour
1/4 cup sugar
1 tbs baking powder
1 tsp salt
1 cup buttermilk
1/3 cup vegetable oil
2 eggs
Mix the wet and dry ingredients separately first, then mix together.  Pour into a greased pan and bake at 400 degrees for 20-25 minutes.